The Cumberland & Dumfriesshire Farmers Mart held their annual sale of Hillbred Suckler Calves at Longtown on Saturday 27th October 2007, when 563 head were forward. With a large ring of local and distant buyers, all classes met a very fast selling trade.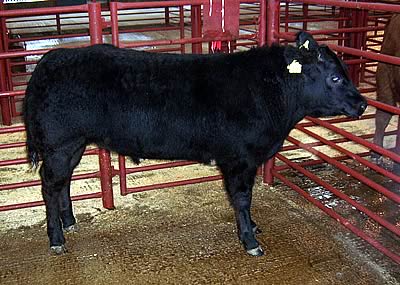 Champion from J & AJ Nicholson, Old Police House
The judging prior to the sale was kindly sponsored by Barclays Bank plc and the judging was carried out by Mr. David Dickinson, Greenburn Farm, Canonbie, who awarded the championship to J & A J Nicholson, Old Police House for a Limousin bullock.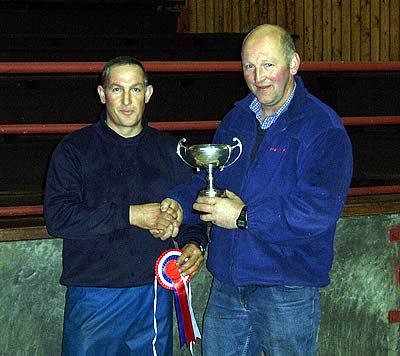 John Nicholson with judge David Dickinson
Mrs. L Thomlinson presented John Nicholson with the Jacob Thomlinson challenge trophy and the bullock then sold for £600.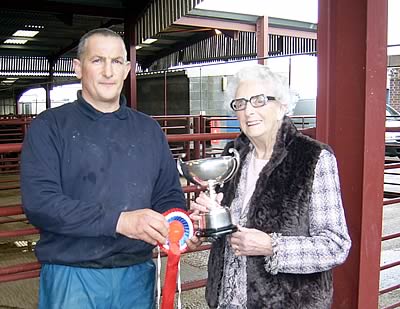 Mrs L Thomlinson, presenting the Jacob Thomlinson Challenge Trophy for champion animal to John Nicholson
Reserve champion was a Limousin heifer from Wanwood Partners, Wanwood Hill which sold at £430.
Other prize winners were Limousin bullock 2nd Tinnis Hall, 3rd Wanwood Hill, Limousin heifers 2nd Wanwood Partners, 3rd Tinnis Hall. Any Other Continental bullock: 1st Old Police House, 2nd Cleughside.
Top price of the day was £655 for Limousin bullocks from Tinnis Hall, with heifers to £520 for Charolais from Mosside and Limousin from Tinnis Hall.
The highlight of the sale was a tremendous show of 140 Charolais & Limousins from Greystoke Castle Farms with Charolais bullocks to £600, Limousin £540 and heifers to £505 for Charolais and £430 for Limousin.
PRINCIPAL PRICES
Charolais bullocks: £610 Riggfoot, £600 Greystoke, £580 Riggfoot, £575 Mosside
Simmental bullocks: £515 Chapel Mains
Limousin bullocks: £655 Tinnis Hall, £600 Old Police House, £565 D'Mainholm & Lowtodholes
Belgian Blue bullocks: £565 D'Mainholm, £555, £520 Old Police House, £500 Chapel Mains.
Angus bullocks: £615 The Gall, £545, £525 Chapel Mains, £495 Cleughside.
Charolais heifers: £520 Mosside, £505 Greystoke Castle, £500, £480 Riggfoot, £470 Greystoke Castle
Limousin heifers: £520 Tinnis Hall, £495 Greensburn, £490 Low Huntwell, £455 Greensburn
Belgian Blue heifers: £400 Old Police House
Angus heifers: £365 The Barns
Charolais bull: £470, £460, £425 Low Brooms
Limousin bull: £360 Whitgates
BEEF BREEDING CATTLE
The Cumberland & Dumfriesshire Farmers Mart held their annual Autumn sale of beef breeding cattle on Saturday 27th October when there were 202 forward. The cattle sold well to a top of £1250 for Belgian Blue cow with bull calves from Old Police House.
PRINCIPAL PRICES
Belgian Blue cow & calf: £1100 Becton Hall, £800 Fawcettlees
Limousin cow & calf: £920 Fieldfoot, £880 Old Police House, £810 Southlambhill
Blonde cow & calf: £780, £760 Mossthorn
Belgian Blue heifer & calf: £1220, £720 Haggiston Holm
Limousin heifer & calf: £1080, £1000, £960, £940, £900, £800 Falside Hill, £800 Parcelstown, £780 Southlambhill.
Blonde heifer & calf: £860 Falside Hill
Simmental heifer & calf: £800 Falside Hill
Limousin heifer & calf: £600 Southlambhill
Limousin bulling heifer: £650, £600, £570 Fellend