BLUEFACED LEICESTER
The Cumberland & Dumfriesshire Farmers Mart P.L.C. had forward 188 head their Annual Show & Sale of non-registered Bluefaced Leicester Sheep at Longtown on Wednesday 17th October 2007.
An excellent show of sheep attracted a good ring of buyers. Best quality sheep were the easiest to sell all day and a near total clearance affected.
Top price of £350 and £300 for shearling rams from Mosshead, others to £280 Peela Hill, £220 East Highberries. Ram lambs to £180 East Highberries, others £140 Raggetsyke and Mosshead.
Females sold to £140 (twice), £100 from A. Bouch, Parknook; shearlings £100 The Row.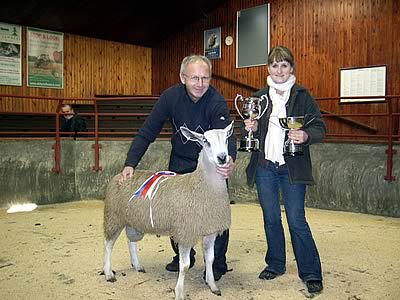 Champion Leicester with owner Billy Little and judge Caroline MacGillivray
At the show prior to the sale judging for the day was carried out ably by Mrs Caroline MacGillivray of Heads Nook, whose awards were as follows:-
Shearling ram – 1st and reserve from Messrs D. Brown & Son, Mosshead, Lockerbie.
2nd Mr D. Cruikshank, Drumrash, Parton, Castle Douglas.
Ram lamb – 1st and champion from Mrs A.M. Little, The Close, Hethersgill, Carlisle.
2nd – Messrs J. Common & Son, Crossdykes, Corrie, Lockerbie.
The Robert Telford Silver Challenge Trophy for best Ram Lamb and The G.E. Carter & Son Silver Challenge Trophy for Overall Champion both went to Mrs A.M. Little.
TEXEL & OTHER RAMS
The Cumberland & Dumfriesshire Farmers Mart P.L.C. had forward 464 Suffolk, Texel and Continental rams at their Annual Ram Fair at Longtown on Wednesday 17th October 2007.
A packed ringside of buyers and the relaxation back to a 6 day standstill resulted in a near total clearance, with the top quality sorts easily cashed.
Included today was the re-scheduled Show & Sale of Texel Rams and Ram Lambs on behalf of The Solway & Tyne Texel Breeders Club.
The show was ably judged by Mr George McGimpsey, D'Mainholm, Newcastleton who awarded the championship to a shearling ram from Messrs Robertson, The Becks, Langholm, he then went on to purchased the champion at £420.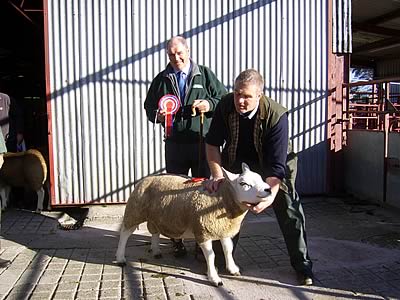 Champion Texel with owner Jim Robertson and judge George McGimpsey
The reserve champion was given to the ram lamb from Messrs Ridley, Haltcliffe which realised £200 to Messrs Morris, Westerkirk.
Principal prices:-
Texel shearlings - £500 Haltcliffe, £440 Duke Street, £420, £400 The Becks, £390 Greypeel, £380 The Becks, £370 Haltcliffe, £360 North Deanhead.
Texel ram lambs - £210 Raggetsyke, £170 Chesterhall, £160 (x2) Baltier, £150 (x4) Townfoot (Goldie).
Suffolk shearlings - £360 Lands, £320 Kilnfordcroft, £290 The Becks, £270 Whitcastles.
Suffolk ram lambs - £320, £310, £260, £240, £220 Lands.
Charollais shearlings - £200 Annandale, £150 Thackwood.
Charollais ram lambs - £140 Lesson Hall.
Charollais x Beltex shearlings - £370, £210 Upper Auchenlay.
Beltex shearlings - £360 Port O Spittal, £320, £320 Drumrash, £200 Mouldy Hills.
Beltex x Texel shearlings - £340 Nether Ernambrie and Stubbyknowe, £340 Nether Ernambrie