The Cumberland & Dumfriesshire Farmers' Mart P.L.C. held their Annual Border Ewe Sale of 3,092 Cheviots, together with 2,487 Swaledale and Blackface ewes, shearlings and ewe lambs at Longtown on Wednesday 10th October 2007.
Cheviot ewes were an excellent show with trade very good, the majority being purchased to go to Wales.
North Country Cheviot shearlings to £60 Nether Ernambrie, ewes to £39 Marwhirn, £36 Terrerain and ewe lambs to £30 Lanefoot, Hill Top and Meikle Whitriggs.
Hill Cheviots to £41 for gimmer shearlings from The Chapel, ewe lambs to £34 Castle Crawford, ewes to £36 Castle Crawford, £34 Glengeith, Annelshope and Sorbietrees, £33 Archbank, Chanlochfoot and Skelfhill, £32.50 Naddle.
All classes of Blackface and Swaledale ewes, shearlings and ewe lambs were a much better trade than anticipated and were short of requirements.
Top in the Blackface section was £56 for Blackface shearlings from Wanwood Hill, others to £50 Fawcettlees, £49 Dalhanna, £47.50 Dykecrofts. Ewe lambs to £38 Wanwood Hill. Ewes to £28.50 Dalhanna, £28 Baggarah Yeat, £26 Sundhope, £25.50 Megdale.
Top in the Swaledale section was £40 for shearlings from Bellmount, £38 West Craigs. Ewes to £26 Stonehall, Low Closegill and The Side, £25 Shankfield Head.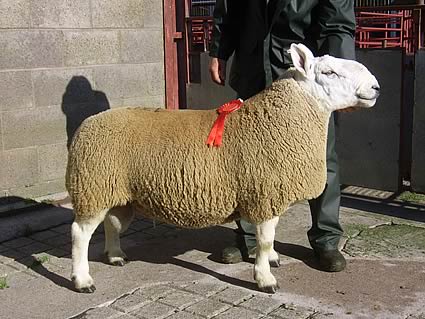 Champion North Country Cheviot Ram from J Runciman & Son, Allanshaws
At the Annual Show & Sale of North Country Cheviot shearling rams there was an entry of 65. Good quality rams met a strong demand and were short of requirements.
The judge for the show was Mr Lewis Forster of West Nubbock, Hexham, who awarded first and second prize to Messrs Runciman, Allanshaws, with third prize going to David Smith, Whiteknowe.
Top price of £460 from Messrs Stones, Nuncote Nook, £400 Hilltop (Bell), £380 and £340 Allanshaws.
At the annual sale of Zwartbles rams & females, buyers were numerous, but only the best found new homes.
Top of £100 for a ram lamb from Holmlea, others to £95 and £90 Viewfield. Ewe lambs to £70 from Horsley Hope Mill, others £65 Stockwell Hall, £60 Dykerow.