The Cumberland & Dumfriesshire Farmers' Mart P.L.C. held their Annual Sale of Greyface Mule and Continental Ewe Lambs, together with breeding ewes & shearlings at Longtown on Tuesday 9th October 2007, when there was forward 7,257 head.
Ewe lambs were of good quality considering it being later than usual and with a lot of top lambs having already been sold. Buyers were present from Thurso in the North down to Devon & Cornwall in the South.
A level trade prevailed all day with prices down by £10 on the year.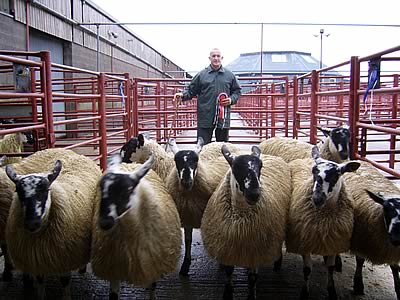 Champion Ewe Lambs from Mr John Nicholson, Old Police House, Roadhead
Judging was in the capable hands of James Fry, Porterstown Farm, Thornhill, whose awards were as follows:-
Ex Blackface – 1st prize and Champion Mr John Nicholson, Old Police House, Roadhead; 2nd prize Wanwood Partners, Wanwood Hill, Alston.
Ex Swaledale – 1st prize T. Davidson, Bellmount, Irthington; 2nd prize J.T. James, Midtodhills, Roadhead; 3rd prize – D. & P. Roddam, Fordlands, Hethersgill.
Top prices were £70 Old Police House, £68 Bellmount, £62 Midtodhills, £56 Bailey Mill and Fordlands.
Texel cross ewe lambs to £50 Barnglies, £42 Emley, £41 Cadgillhead.
Breeding sheep were easy to sell at late rates with best quality the easiest. Shearlings sold to £74 for Texels from Baltier, others £63 The Gall; Greyface £66 The Gall.