SECOND ANNUAL PRIZE SHOW AND SALE FOR SINGLE PRIME LAMBS
FOR YOUNG HANDLERS

THURSDAY 2nd AUGUST 2007

SPONSORED BY


Cumberland & Dumfriesshire Farmers Mart P.L.C held its 2nd annual young handlers show and sale of single prime lambs, kindly sponsored by Farmers Guardian, on Thursday 2nd August 2007.
Champion lamb shown in ring with purchaser Billy Kirkup, Thomas Hope and his mother, Marion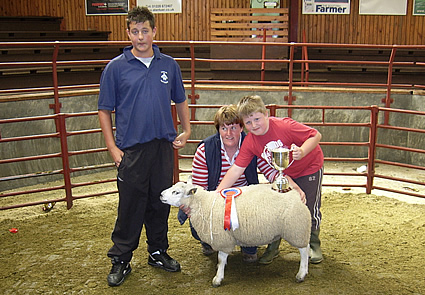 An entry of 80 lambs were forward in three age classes (0-7, 8-11, 12-16) and were ably judged by Steven Wilson, of Wilson Butchers Ltd, Corby Hill, Carlisle.
The first 3 prize lambs went forward for the overall championship for which the Taylor family from Englishtown donated a new trophy in memory of the late Hugh Taylor who was a past Chairman of the Market.
The sale of the lambs was buoyant and all the regular buyers remained within the ring to help support the youngsters.
The overall championship was awarded to the winner of the 0 – 7 age group and was a 43 kilo Beltex x Lamb from Thomas Hope, Albierigg, Canonbie which realised £88 (204.6p kilo) and was purchased by Wm Kirkup, Butchers, Longtown. First prize in the 8 – 11 yr olds was Ian Carlisle, Nether Dargavel, Collin for a Texel x Lamb scaling 46 kilo and realising £76 (165.2p kilo), also to Wm Kirkup. First prize 12 – 16 yr olds was Thomas Illingworth, Howgillside, Eaglesfield, Lockerbie for a Texel x lamb scaling 49 kilo and realising £72 (146.9p kilo) to Border Meats, Lockerbie.
Mel from Farmers Guardian with Mr Hope and Thomas after judging of championship.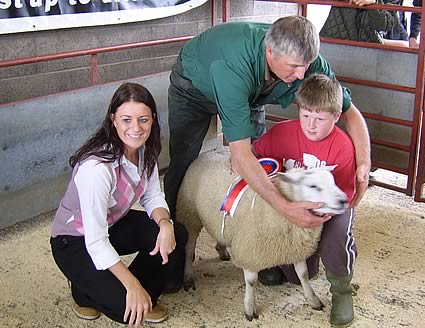 Ian Carlisle, Nether Dargavel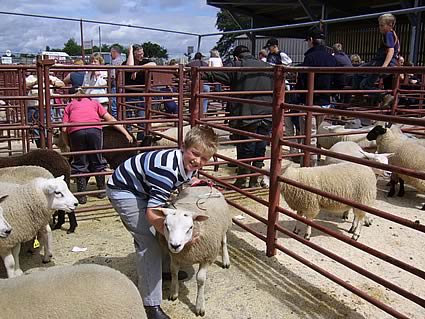 3 lambs together Thomas Illingworth, Ian Carlisle, Thomas Hope with judge Steven Wilson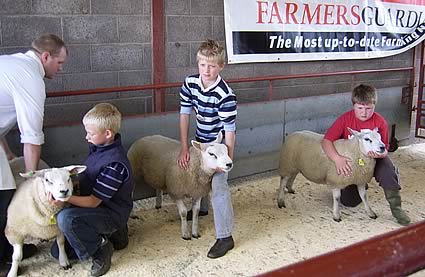 Full list of prize winners:
(0 – 7) 1st Thomas Hope, 2nd Rory Beard, 3rd Harry Bouch, 4th Louise Brough, 5th Harry Hope, 6th Sam Beard, 7th Emily Dinnin, 8th Robbie Oliver, 9th James Veith, 10th Millie Hogg.
(8 – 11) 1st Ian Carlisle, 2nd Jake Ivison, 3rd Jack Austin, 4th Sam Borgogno, 5th Victoria Illingworth, 6th Amy Neill, 7th John Wigham, 8th Lauren Pattinson, 9th Jamie Scott, 10th Paul Gardner.
(9 – 16) 1st Thomas Illingworth, 2nd Stuart Armstrong, 3rd Scott Blaylock 4th Lisa Irving, 5th Andrew Brough, 6th Emily Hewitt, 7th Lauren Little, 8th Chris Bendle, 9th Tom Fisher, 10th Helen Graham.
Other principal prices: £74 Kate Pattinson, £70 Jake Ivison, £69 Steven Brough, Chris Bendle & Robbie Oliver, £68 Andrew Brough, £67 Adam Batey, Tom Fisher & Lauren Pattinson, , £66 Emily Hewitt & John Wigham, £65 Callum Braithwaite, Rebecca Gardner & Lisa Irving, £63 Robyn Bowker, Robbie Ivison & Victoria Illingworth.
Judge Steven Wilson