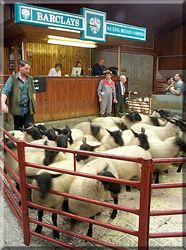 Cumberland and Dumfriesshire Farmers Mart P.L.C. had forward a catalogue entry of 2,667 breeding sheep at their Second Sale of Lowland Breeding Sheep at Longtown on Wednesday 18th September 2002.
Buyers were present from a wide area, and with a good show of sheep forward all classes were dearer than at the main sale. Top price of £100 for Zwartble Shearlings from Colter Coats Farm, Greyfaces to £72 Snowden Close closely followed at £70 Mill Hill, Texels to £78 Kirkton, Hawick and Suffolks to £56 Dashwellgreen.
Ewes sold to £49 for Correct Greyfaces from Mill Hill & Hoddam and Kinmount Estates, others to £46 Redhills; Texels to £47 Kirkton, Hawick; Leicester £43 Fairfield; Charollais £47 Mill Hill; Suffolk crosses £42 Mill Hill. Correct Below Ewes to £44 for Texels from Kirton; Greyface £36.50 Borthwickshiels; Cheviot Mules £38 Woodfoot. Rams sold well and were short of requirements to a top of £390 for a Texel shearling from Raggetsyke.
PRINCIPAL PRICES:-
Greyface Mule Shearlings £68 Mill Hill, £67 & £66 Tympanheck, £65 The Hagg & Tympanheck.
Texel cross Shearlings £65 Kirkton, £61 Kilnclose.
Suffolk cross Shearlings £51 Dashwellgreen, £45 Castletown.
Greyface Ewes (Correct) £46 Redhills, £42 Kirkton, £41 Hoddam & Kinmount & Borthwickshiels.
Greyface Ewes (Correct Below) £35.50 Kirkton, £35 Milnholm & Borthwickshiels.
Texel Shearling Rams £360, £250 Raggetsyke.